I'm Relocating
Our goal is to support you, as well as any accompanying family members or even your pets to make sure your move goes smoothly. With years of experience and a passion for customer service, we've learned how to save you time and money on your move—and we love doing it
Get Started
How we can help you
Whether you're heading out to your host location or repatriating to your home country, welcome! If you are relocating for the 1st time or are already a well accomplished expatriate, relocating can be daunting and the large numbers of names and contacts you will be dealing with throughout the move can at times be bewildering.
We understand the challenges you may face and through the breadth of international relocation services we offer, we aim to provide reliable, practical support and solutions to make your relocation a seamless and fun experience!
With more than 30 years of experience in the local and international relocation industry, we offer a range of services to help you successfully relocate overseas. We provide high quality, reliable and affordable relocation services that are tailored to your specific needs. Whether you're moving internationally for work or personal reasons, our team will guide you through every step of the process from start to finish.
From finding you a home, supporting with schooling, applying for a bank account, familiarising you with your new destination, organising your NINo (National Insurance Number), registering for a GP (General Practitioner), spousal support or even a range of services for your departure, our team is here to help.
As a family-run business, we take pride in providing an honest and personal service, so you can be sure that our team will work hard to make your move as smooth as possible.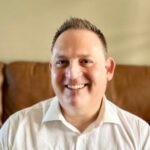 Jeremy Chandar
Relocation Specialist
An idea is salvation by imagination.
"You're moving for your job, to enhance your career, to take up new challenges, to learn a new culture, to broaden your horizons. Above all other considerations (other than family) your primary goal as a professional relocating, is to "hit the ground running" in your chosen location. The support you can come to count on and rest upon from our team of dedicated relocation experts is to help guide and simplify the entire relocation process, so that from the time that we speak, you can consider us to be your trusted advisors.
We can't remove all of the stress you may be experiencing, or some of the administrative burdens that you might personally be required to complete and there will be many new names that you will be introduced to throughout your relocation from people who will be helping you bridge continents, languages and cultures. But you can rely on Pinewood Relocations to bring every aspect of your relocation together as a friendly and caring voice".
Our services

Move Management
Moving goods internationally can be a complicated process. We know that, and we're here to help.
Our international moving services are designed to make this step simple, with one point of co-ordination and door-to-door services globally.
Our accredited quality-certified International Moving Specialists under FIDI, FAIM and BAR provide door-to-door services globally.
We oversee every aspect from packing, submitting insurance, customs documentation, shipping, delivery and finally to the excitement of unpacking so that your employee feels stress free in their new location ready to fulfil their new responsibilities!

Departure Services
When you're moving someone to a new location, there are a lot of things to think about. Our departure services are designed to help you and your employees make the transition as seamless as possible.
We understand that each relocation is different, which is why we encourage you to pick and choose the services that best suit your employee(s). With our help, you can be sure that every detail has been handled—right down to their packing and shipping of household goods!
Our departure services include:
Full repatriation program
Packing and shipping of household goods
Property marketing and sales services
End of tenancy Management
Dilapidation Management
Termination of utilities & mail redirection
Immigration
When you hire an employee for an international assignment, you are making a significant investment in their success.
We provide a fully compliant immigration compliance service, on both a transactional and advisory basis. We liaise with all partners involved, ensuring all visa and immigration permits are compliant with local requirements.
Immigration is a necessary hurdle to overcome, but one that we can facilitate on your behalf from start to finish!
Given the cruciality of immigration compliance to the success of your company's international assignment(s), offering this service within your relocation package will not only give your employee piece of mind right from the beginning of their experience; but further protect your investment.

Home Finding
Finding the right home for your employee is critical to their experience, and can make a big difference to their happiness and productivity.
Our bespoke home finding service is delivered by in-house experts to help employees find their ideal home, help navigate local rental practices, and create an individual itinerary of property viewings. As well as reducing stress, this relocation service saves the employee time, meaning they can stay focused on their work.
We will manage the entire process end-to-end: allowing your employee to fully focus on their new responsibilities; minimising your risk and further protecting your investment in the relocation.
Our team will manage everything from there on out: including familiarising themselves with the market, their budget and the location (in order to select the most suitable properties). They can also see a live schedule of accompanied viewings organised to fit their diary!
Importantly, our experienced team will negotiate on your employee's behalf to reach the best price and support with Inventory and check in; which will later be used as evidence at check-out to

Education Support
We understand that the relocation of your employees and their families is a big decision. It can be an exciting time, but it can also be stressful and overwhelming. One of the most important things to decide is where your children will go to school. At Pinewood Relocations, we believe in providing you with unbiased help and advice on all the options available to you in your new home.
We have experts in our team who know exactly what information you need to make an informed decision about which school is best for your children. We can help you find the right school for your family by providing information on Ofsted ratings, as well as offering bespoke consultancy to find the perfect school for each of your employee's children.
When you choose our relocation services, we will evaluate school options for your family, provide information about individual school performance, arrange site visits – where permitted – and guide on how to prepare the child for any entrance exams.
Pet Care
Many companies are realising that pets can be a great way to improve the experience of their employees and improve the productivity of their company.
In fact, it's not uncommon for people to bring their pets along on business trips. But what happens when you're traveling with your pet? Can they stay at the same hotel as you? Are they allowed to ride in the cab? Do they need their own seat on the plane?
Our team will handle everything from making sure they comply with all travel regulations to sourcing pet friendly properties and recommending places to walk the dog or pet-friendly pubs. We'll manage everything for you so that all you have to do is sit back, relax, and enjoy!

Settling in quickly is an important part of the relocation process. It's not just about finding somewhere to live; there are many other things you need to do, such as registering with the council and choosing utility providers.
Our settling-in service ensures that these tasks are handled smoothly and efficiently. We take care of all necessary registrations and applications, so your employees can be productive in their new role immediately.
Studies have found that one of the main reasons for employees not accepting an international assignment is the potential inconvenience to their partner. Partner Support is designed to help partners acclimatise and adapt to their new lives more easily, which helps protect your company's investment.
Our diligent team bring a service to the table that is specific and relevant to each partner/family member—whether they want CV writing advice or interview preparation, career counselling, recruitment services, self-employment support or community involvement!